Nothing lifts flagging winter spirits like the first signs of blossom on the boughs, the clouds of pink and white that follow bringing with them the first true promise of spring and a new gardening year. While the iconic blossom trees are April's ornamental cherries, the blossom season lasts from February to early May, moving through the Prunus family (from blackthorn, apricots, plums and cherries) and then on to the later crab apples, apples and Hawthorn.  And right now it's the perfect time to be planting trees so get busy and ensure you have lots of beautiful blossom to look forward to!
One of the earliest blossom trees to flower is Prunus mume 'Beni-chidore', a dainty Japanese apricot that grows to only 3 metres and produces deep carmine pink, almond scented flowers on bare stems in late February to March.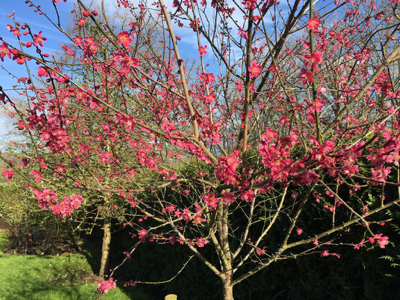 The yellow fruits that follow are edible, but not pleasantly so as they are very bitter. It prefers a moist, fertile, well-drained soil and is best planted in a sunny, sheltered spot next to a path in order to catch the scent. It also makes a good container plant.
For something a little bit different, ornamental pear trees flower ahead of most other blossom trees and are usually easy to grow, tolerant of most soils and conditions and disease resistant. Pyrus calleryana 'Chanticleer' is one of the best. It is an upright, compact tree to 7-10m in height and carries large white flowers on bare stems in March.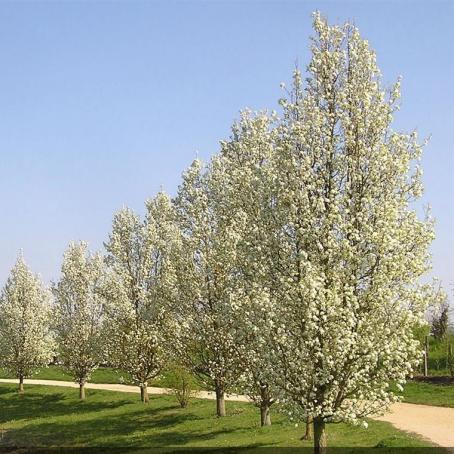 The fruit aren't suitable for human consumption, but make useful late season food for birds and the leaves take on fiery tints in autumn, later than many other trees.
Amelanchier lamarkii is another early bloomer, smothering itself in delicate, star shaped white flowers in March to April. In early summer these go on to produce edible purple/black fruits that are a particular favourite of blackbirds. The small leaves provide dappled shade in summer and turn from striking bronze when they emerge to green and then brilliant red and orange in autumn.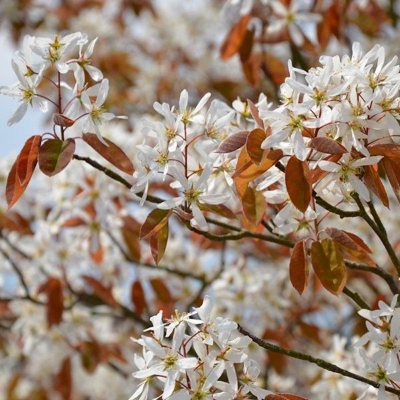 It is a slow grower and makes an excellent choice as a specimen for smaller gardens. It can also be grown as a multi-stemmed tree, providing additional structural interest in winter. Happy in sun or partial shade, this tree tolerates extreme cold and wet, but does need a lime free soil.
The real stars of the show are the ornamental cherries, many of which have Japanese names as they were bred from Japanese garden cherries by the famous plantsman, Collingwood 'Cherry' Ingrams. Amongst the most unusual of these is Prunus 'Ukon' as its clusters of large, semi-double blossoms are neither pink nor white, but pale sulphur yellow. These open from pink buds in mid to late April and are perfectly complemented by its bronze/brown young foliage. It has an attractive, spreading habit and umbrella-like canopy and is altogether a beautiful tree for any garden. (Ultimate height and spread approximately 8m x 10m).  Prunus avium Plena (AGM) is not Japanese, but the double flowered version of our native cherry and is covered in a profusion of pure white drooping flowers in late April to May. Its young bronze leaves turn to dark green and then a rich, vibrant red in autumn. At about 10m x 10m it makes a spectacular specimen or avenue tree in a large garden.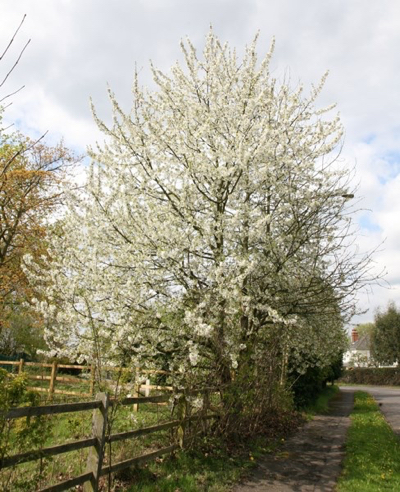 If it's pink that takes your fancy, Prunus 'Ichiyo' is a lovely, dainty tree (up to 6m tall) with neat, shell-pink blooms set off by bronze-green foliage.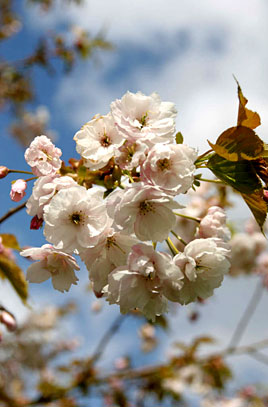 Ornamental cherries grow best in fertile, well-drained, soil in sun or partial shade. They will not tolerate water logging.
Late bloomers, but no less beautiful for it, the crab apples see the blossom season out in style. They are related to our domestic apple (for which they make excellent pollinators), but have much smaller fruits which can only be eaten cooked and are mostly made into jellies and jams. In late spring, they have pretty, scented, usually single flowers, ranging in colour from pure white to deep pink, depending on the variety.  Some cultivars have purple leaves.  In autumn, they have small, attractively coloured red or yellow 'miniature apples' and they often have good autumn leaf colour as well. Most crab apples do not grow to more than 6m tall, and take quite a long time to get there so they are excellent trees for small gardens.  Malus hupehensis is an exception to this rule and, at up to 12 metres tall, makes a wonderful spreading specimen tree.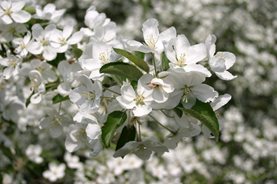 It has profuse clusters of pink-budded white flowers in spring, followed by cherry-shaped, deep-red fruits, and red and yellow autumn tints to the leaves.
Crab apples are very hardy, and happy to grow in almost any soil, provided it does not dry out easily in summer. They like a sunny position, but will tolerate some shade.
Photos credits:  Ornamental Trees, Marc Deraeve, Beechwood Nurseries, Royal Horticultural Society.
SaveSave