I'm a great fan of adding art (of whatever size or form) into the garden.  Nothing pleases me more than clients asking me to create spaces in their design for a piece of art, and/or find them pieces to add to their gardens – whether that's a contemporary piece from a gallery (bought or commissioned), an antique bust or an old pot, a water sculpture or simply a piece of garden reclamation.
Whatever form it takes, 'art' is a valuable addition to any outdoor space, but or course you do need to give some careful thought to choosing your piece and finding the perfect position for it.
Think about scale and how much space you have.  A small piece to be viewed from a distance might have little impact.  But a small piece tucked in amongst planting discovered on a walk around the garden will make a lovely point of interest when it's least expected.
Is your piece to be on open view or positioned amongst planting?  If it's the latter, make sure the surrounding plants aren't going to completely engulf the work to the point where you can't see it for half the year!
A hedge can provide a fantastic backdrop to show off art, and soft planting and long grass can provide a wonderful contrast to the solid form of a sculpture positioned amongst it.  Combining different plant textures makes for an interesting planting scheme, and adding a piece of art into the mix will bring another dimension of interest.
Contemporary or traditional?  I don't think you have to slavishly follow the style of your house and garden when it comes to choosing art.  More importantly just make sure you choose something you love and that you're going to enjoy looking at 365 days a year.
Of course you don't need to be restricted to just one piece, or to keeping pieces in the same place forever. Gardens evolve throughout the year and over the years, and there's no reason why you can't treat your outdoor space like a gallery and ring the changes on a regular basis.  Large works of course will be less easy to move around and they may well necessitate permanent fixings so they need extra careful positioning from the start.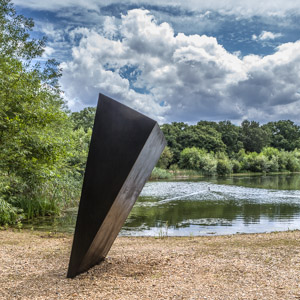 Material choice may be an issue from a maintenance and longevity perspective – glass and stainless steel for example will need much more regular attention than stonework. And if you choose a reflective piece, think about exactly what it will be reflecting (from all angles) and where it can be sited for maximum effect.
Could a sculpture made from light coloured stone brighten a gloomy corner of the garden and create a much needed focal point where planting is restricted?
The wonderful thing about garden art is that it can be enjoyed all year round, and 24 hours a day if you light it well too.
In the winter when most gardens die down and there's not a great deal to see, the subtle use of structural plants, sculpture, garden lighting and beautiful furniture can combine to create a stunning outdoor space to be viewed and enjoyed from both inside and outside the house.
If you'd like help choosing art for your garden, let us know.  We offer a bespoke service to help clients find exactly the right pieces to enhance their outdoor spaces and really make the most of their gardens all year round.
You may also like our blog on outdoor sculpture galleries to visit.  Always a fantastic source of inspiration as well as a nice day out!
Picture credits:  Janet Bligh & Firgrove Photographic