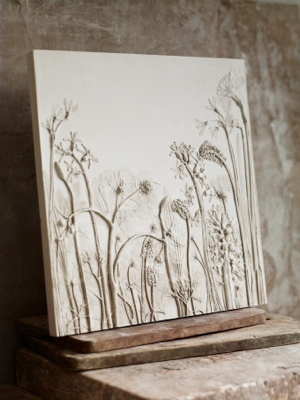 I'm someone who loves to try new things and for some reason I seem to be strangely attracted to pastimes where I usually end up dirty – gardening, blacksmithing, woodwork…  Last September I was tempted by a friend to spend a day in north London on a workshop where I found myself pressing flowers, bashing clay with a rolling pin and messing about with gooey plaster.  And all in the name of art!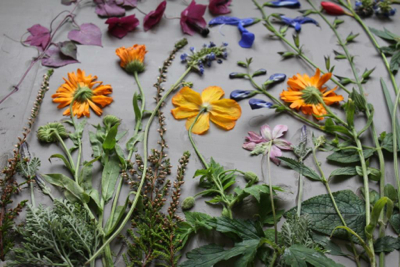 The workshop was run by former prop-maker Rachel Dein of Tactile Studio.  Rachel creates really beautiful works of art by casting flowers, foliage – and even vegetables – in plaster.
The effect is really stunning – at least it is when Rachel is in charge. My little tiles, produced after hours of patient tuition and words of encouragement, aren't exactly stunning, but they are unique (!) and I have to say I'm very proud of them.  (Not surprisingly, the photos I'm showing here are not of my own work!)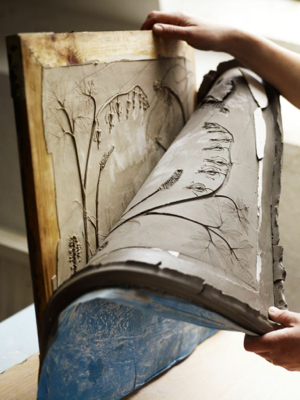 It's the detail the technique captures that I really love.  The veining in a Nasturtium leaf, the prickles in the stem of a Teasel, and the seeds of a fennel flower are all now immortalised in plaster and hanging on my wall.
My friend Eva ordered up sacks of plaster pretty much the minute we got home so we are planning to have another go ourselves now that our gardens are coming to life after winter.  I'd better dig out my rolling pin…
On Saturday 18th April, Rachel will be talking at the inaugural Gardens Illustrated Festival in Malmesbury, Wiltshire. She'll be discussing her work, her inspiration from the Arts & Crafts movement and artists such as Karl Blossfeldt, and also her key moments in the history of botanical art.  To find out more, visit the festival website page.
As well as running workshops from her London studio and creating work for sale, Rachel takes private commissions and will cast any number of different things (whether it's a bridal bouquet, or just valued personal objects). Most of Rachel's pieces are for interior use only but she can also create work for the garden, and you can see the range of her work on the Tactile Studios website.
Photos courtesy of Rachel Dein & Andrew Montgomery