Last weekend I was in a pretty gloomy and soggy London for the day.  We made a quick diversion to go the Tower of London to see a really inspiring installation of ceramic poppies which is taking place at the moment.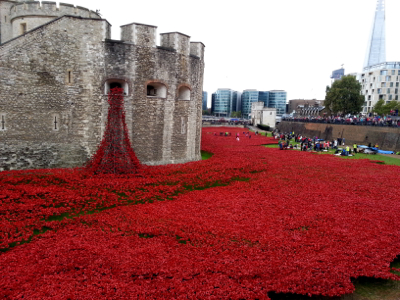 It's called 'Blood Swept Lands and Seas of Red' and was devised by artist Paul Cummins, with the setting created by stage designer Tom Piper.  It's a very powerful work – in my opinion.
Marking 100 years since the the first full day of Britain's involvement in the First World War, starting on 5th August this year, ceramic poppies have been planted in the ground by volunteers, and the moat has gradually filled up with a sea of red.  The aim is to plant a total of 888,246 poppies by 11th November (to mark the day the war ended in 1918).  I saw images of the installation in the early stages on the internet, but it really is an amazing sight to see in person if you can get there, especially now as the moat fills up.  My photos, snapped on my phone, really don't do it justice.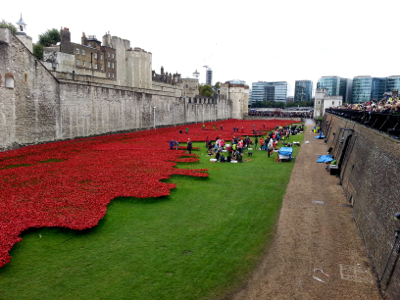 And when you think that every poppy represents a British military fatality in the First World War, it makes it all the more poignant.
The ceramic poppies are on sale to raise money for 6 service charities and with the aim to raise millions of pounds it's definitely a worthwhile cause.  Plus it's not everyday you can add part of an art installation to your garden – enough to brighten any gloomy day!  Check out the Tower of London website to find out more.